Tax Relief for Truckers
When you're out on the road for long stretches of time, it can be tough to keep up with your taxes. If you've had tax issues slip through the cracks while you were away from home, contact Taxation Solutions, Inc. for expert tax relief services. We specialize in offering tax debt relief to truckers. From helping you file back taxes to petitioning to have penalties lifted and beyond, we'll give you the tax relief help you need to have peace of mind behind the wheel. For more information about our tax relief services, and to book your free initial consultation, contact us today!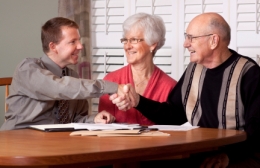 We're one of the most comprehensive tax relief companies serving the Baltimore area. Come to us for help with:
IRS back taxes
Tax penalties and fees
Tax settlement negotiations
IRS audit proceedings
Tax court summons
Liens and levies
Wage garnishments
And more!
No matter how serious your tax problems have become, we'll help you experience IRS tax relief. We're always working toward the most favorable outcome possible for our clients. We'll customize our tax relief help to your specific circumstances, taking into account not only your work as a trucker, but also your financial and living situations. Our goal is to help you meet the tax authorities' demands without experiencing unnecessary financial hardship.
A Licensed & Insured Tax Relief Company
When you're in need of tax debt relief, it's vital to put your case in capable hands. Taxation Solutions, Inc. is proud to be fully licensed and insured for all of the IRS tax relief help we provide. We have 40 years of experience in IRS tax debt relief, and we'll put all of that experience to work for you. We care about our customer service and about the quality of the work we do.
Taxation Solutions, Inc. is staffed with a tax relief attorney and a host of other industry experts. That means that whatever your IRS tax relief needs, we have someone standing by to meet them. So what are you waiting for? Contact us today via phone or e-mail to book your appointment. We're one of Baltimore's most trusted tax relief companies, and we'll give you prompt, accurate, and effective answers to your tax problems. 
tax relief
truck driver tax help